Jeramie Anderson and Crista Seipp
Swing Dance Instruction

Jeramie Anderson and Crista Seipp are the ALHC Gulf Regional Champions from 2005-2006 and Swing Dance USA Champions of 2006. Jeramie currently claims Arlington, VA as his home although he credits his dance home to Austin, TX. Crista currently resides in St. Petersberg, FL; but grew up in Arlington, VA and that is where the two met. Jeramie and Crista share an energetic style and love for the dance. In addition to the gulf region, Jeramie and Crista also compete nationally and took 6th place in the country in the American Showcase division of the American LindyHop Championships. As impressive as their record is together, both dancers have impressive individual accomplishments as well.
Jeramie has a musical foundation of about 20 years of drumming experience. With a little influence from his mother, a "Solid Gold Dancer", a good friend, and a Thursaday night at "The Fed" in Austin he got the dancing bug. Jeramie first started dancing in November of 1998. In early 2000 Jeramie joined "NeoSwing" an Olympic performance group coached by Tena Morales and Carnell Pipkin which was based out of Houston, Texas. The team went to Sydney and performed as part of the National Association of Dance Educators. Shortly after that Jeramie began competing and DJing regularly and has been addicted ever since. Holding such recognition as a second place in Pro/Am with Carla Heiney at ALHC in 02, 3rd in Champions Jack and Jill ALHC 03, regional ALHC champ 02-04 Texas, Gulf Coast regional champ 05-06, third in the Jill and Jack at ALHC 05, first place at VSO Strictly Lindy in 06, second place blues at ALHC 06, second place Jill and Jack at ALHC 06 and various other smaller regional competitions throughout the country such as second place in the BeBop burger Jack and Jill in Santa Barbara, and first place at the San Diego exchange Jack and Jill in 02. Jeramie brings to the table nearing a decade of dancing experience with a strong knowledge of the musical structure. Highly energetic and a goofball he is sure to keep everyone laughing.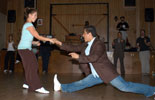 Crista started swing dancing in Arlington, VA in 2002, and now resides in St. Petersburg, FL. Over the past five years, she has built a rich and diverse dance repertoire, including Lindy Hop, Charleston, Balboa, Blues, and Solo Jazz. She has attended numerous local and national workshops including the Oberlin Jazz Dance Festival 2005 and Camp Jitterbug 2006, exchanges in South Florida and Las Vegas, and events including the 2005 and 2006 Ultimate Lindy Hop Showdown, the 80th Anniversary of the Savoy Ballroom, and the 2005 and 2006 American Lindy Hop Championships. She made her competition debut at the 2005 Gulf Regionals with Jeramie where they placed 1st in American Showcase and 3rd in the Endurance contest. Since then she has placed 4th in Strictly Lindy with Joel Green at ALHC 2005, 1st in the Jack n' Jill and 3rd in Solo Charleston at the 2006 Gulf Regional Lindy Hop Championships, 2nd in the Jack n' Jill at Swing Dance USA 2006, and 5th in the Advanced Jack n' Jill at ALHC 2006. She was co-president of the University of Florida Swing Dancing Club with Marcie McCabe from 2004-2005. Crista currently teaches private lessons in Gainesville, where she is a graduate student at the University of Florida studying Occupational Therapy.
---
Sample Class Descriptions
Slow… Style… and Grace:
Based on connection, counterbalance, and a basic understanding of the principles and movements associated with slow dancing, this class is intended to teach you the proper way to use weight-changes, body awareness, a little hint of sensuality and a improvisation to add stlye and grace to those slow dances. We will build the class on a few of our favorite slow blues tunes, but we will also show how the dance can be done to any slow tempo or "club" music. This class is for both beginning and experienced dancers.
Movin and a groovin':
Learn to use triple step variations to keep those feet moving through the swing out. Change up the look and feel of your lindy hop with a few new moves and a little more pep in your step. We will work on putting the triple step back into your swingout, add a few kicks, stops, and a little bit of that old school groove; and this class is sure to help you break out of those old routines.
Dancing Mechanic:
Moving like a fine tuned machine.... Learn to interpret what you hear in the music and express it with your body. Grease up those sqeeky hinges and get ready to work on speeding up and slowing down your swingouts and move executions, matching the "style" of the music, and overhauling your lindyhop. The class will break down the swingout into four workable groups and give entrances, exits and variations that can and will re-sculpt your dancing.
You got served!:
Get the inside scoop on executing dips and flashy tricks with balance and precision. The tricks in this class will test you mentally and physically. We won't be doing aerials, but will show a series of low impact flashy moves to catch the attention of everyone around you. Leaders and followers, come prepared to sweat and learn some rockin' tricks, some great hijacking moves, and fun escapes. When you are done with this class, show them dance moves off on the dance floor tell all them other suckas "You Got Served!"